CD Review: Blues Without Borders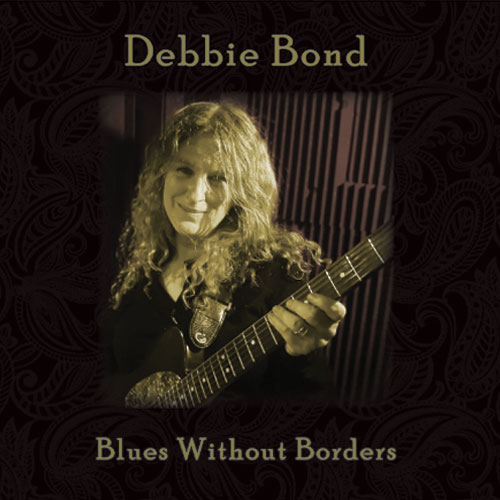 Bond is one of those blues musicians who, mysteriously and incomprehensibly, moves below the modern blues radar at times, despite her lifelong immersion in the music and having played with so many old-time greats from Johnny Shines to Eddie Kirkland and Willie King. With this new release, she delivers an exceptional album...genuinely gripping blues offering that slips along purposefully and strongly from start to finish, covering all those essential blues bases with a confidence and command that makes this an essential release for blue lovers everywhere.
Blues Matters (UK)


. . . very impressive blues album from a very talented artist. Writing all the songs and delivering them with such clarity and passion, just demonstrates that Debbie Bond is a masterful blues singer and fine guitarist...Debbie Bond brings all her love of the blues, the years of hard work and connection with so many old school Alabama blues artists to the fore on this outstanding album. The Mystery Train 2SSR Sydney (Australia)
One of the year's finest blues LPs. Blues Without Borders superbly combines a host of idiomatic elements, among them the raw, haunting sound of the Delta, crackling New Orleans R&B and even aspects of international sounds. Ron Wynn, Tennessee Tribune (US)
Blues Without Borders is the result of teamwork at all stages of production and you can feel it. It is a beautiful record of shared passion, essential. Pierre Robin High Fidelity Publication, Quebec (Canada)
Bond has sure paid her dues over the years working alongside such notables as the late Willie King, where she was a band member and with the legendary Johnny Shines, an old road-buddy of Robert Johnson. With such a heritage and background, it comes as no surprise to find this bit of true blues gold. Blues for our times from a lady who knows what she's about. Highly recommended, grab it while you can. Blues Magazine (Netherlands)
. . . tracks that take the guts and which permanently mark the audience, even the most demanding of blues fans. We will appreciate the highly sought-after sound, high-level artistic content and a real desire to share that is felt with each word, with each note. Sound Guardian
. . . many musicians have availed themselves of the help of technology to complete their work: and this is precisely the case of the fifth album by guitarist Debbie Bond, one to be finally assembled in five different recording studios. Perhaps this could run the risk of losing something, the spontaneity and the understanding between the musicians for example, however this is not at all the case . . . it is beautifully built. Il Blues (Italy)
. . . tasty blues and soulful musings. . . this set of tough and tender tracks, all written or co-written by Bond, that blend thoughtful songwriting. . . a heartfelt plea for peace, love and understanding. This is world music in the best sense of the word, all pulled together by Bond and her roughly 40-plus years of music-making in Alabama. Blues Road House (US)
Debbie has caught the spirit of the blues to send out a message for today. This is not historical blues looking back but modern blues looking forward. . . passionate, relevant, modern, a blues holler demanding to be heard. Blues Doodles (UK)
Well crafted songs, strong vocals and wonderful musicianship. A welcome addition to contemporary blues. Bill Wax (US)
"Summer time for the blues. Alabama lady Debbie Bond returns through Blues Root Productions, presenting Blues Without Borders. This CD features her usual delicacy and attention to melodies, which combines groove awareness with a passion for soul that over her long career has increased more and more. The result is more than enjoyable and very accessible, especially in the case of the rhythmic "Road Song", the supple "Blue Rain" and the gospel dedicated to Martin Luther King, "Let Freedom Ring". Bravo." Il Manifesto (Italy)
. . . In the tradition and modern at once, she writes crisp originals and charts the future from the heart. A solid outing for anyone that has modern ears but appreciates where blues has been and where it's going. Midwest Record (US)
. . . with patience and the latest technology, the album was created across two continents during the pandemic . . . . Most impressive! Blues in the South (UK)
Despite the pandemic, they decided to record this album in five different studios . . . VERY GOOD. La Hora Del blues (Spain)
Some albums are once-and-done. Blues Without Borders will seduce the ears of those who find comfort in repeated listening. It is one of those albums that opens windows to let the curtains dance.
Dave Gallaher, Talkin' the Blues with Microwave Dave (US)
. . . From the blues directly brought back from the Delta to the cachets from New Orleans, Memphis or even Muscle Shoals, this is a great overview of the blues in the broad sense of the term that this artist full of ardor and class offers us. . . delivering along the way superb tracks like "High Rider Blues", "Blue Rain", "Heart Of The Matter", "Winds Of Change" or "Shades Of Blue", titles which take to the guts and which permanently mark the public, even the most demanding of blues fans. We will appreciate the highly sought-after sound, high-level artistic content and a real desire to share that is felt with each word, with each note. Fred Delforge, hiZicazine (France )
. . . this set of tough and tender tracks, all written or co-written by Bond, that blend thoughtful songwriting with a variety of musical styles that take in some blues, soul, country — and more. The whole thing kicks off with a crisp "High Rider Blues,". . . . a heartfelt plea for peace, love and understanding. This, probably more than any other song, characterizes what Bond is trying to do on this album. "So, the title track has this sentiment of unity," she says. . . this unusual international effort create a seamless flow of lyrically and musically satisfying tracks. . . .. This is world music in the best sense of the word, all pulled together by Bond and her roughly 40-plus years of music-making in Alabama, where, among other ambitious work, she founded the Alabama Blues Project. The rest of her background is equally impressive. Blues Roadhouse
Like so many recent recordings, Blues Without Borders was disrupted by the pandemic. Bond and her band had to use the internet to collaborate virtually. Fortunately, working together in cyberspace did not diminish any of this band's warmth and musical chemistry. "High Rider Blues" serves as a great introduction to Bond's smoky voice and rock-steady rhythm guitar. Rick Asherson, who is Bond's husband, fleshes out the arrangement with his skilled harp work. A pair of simmering mid-tempo tracks showcase Bond's affinity for traditional blues. Bond's tasteful guitar leads and Asherson's deft keyboard work add soul to "Let Me Be," and "Blue Rain" features some of Bond's most fiery vocals.
While Bond's respect for blues tradition is obvious, she also takes pride in her eclecticism. Blues Without Borders is an emotional plea for unity that sports a sophisticated, jazz-tinged arrangement. . . . "Radiator," Bond's loving tribute to her husband, brings a touch of Memphis soul to the proceedings. Brad Guin's horn work stirs some grease and hot sauce into the arrangement. and listeners can hear the affection in Bond's vocals. "Let Freedom Ring," a beautiful tribute to Dr. King, resonates especially deeply when one reflects on the political and social turmoil of recent years. Gentle, melodic keyboard riffs from Asherson anchor the arrangement, and Bond's voice is filled with grit. Bond is a versatile musician who's not afraid to take a stand. Blues Without Borders engages the listener from start to finish. Living Blues Magazine (US)
CD Review: Enjoy The Ride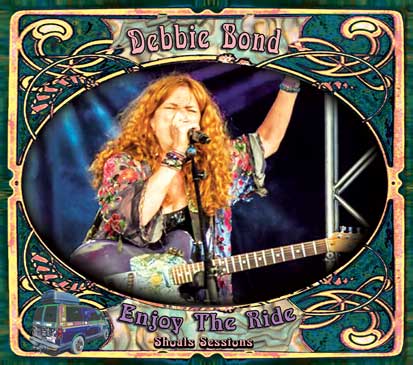 . . . bursting with sensitivity and a soulful delivery that show heartache and hurt, love and loss will always be winning combinations. Blues Matters (UK) Iain Patience
. . . a journey throughout Alabama but more in particular the city built on music Muscle Shoals. I love everything about this album . . . Funky feel permeates throughout an exquisite soulful sound . . . Bond's guitar is tasty but understated . . . this Soul drenched stunner. Highly recommended. Peter Merrett, PBS106.7, Melbourne, Australia
Debbie is a truly American original . . . powerful, passionate and as close to "Old-school" production as I have heard in some time. The love and pure passion that Debbie has for the blues and soul styles that came from the Alabama area is evident in every note . . . Between the power of her vocals, her guitar work that is right on the money . . . this is a piece that is nothing short of a modern Masterpiece. I recommend it highly. This woman is the real deal.
Bill Wilson, Reflections in Blues
A white girl with some deep Alabama blues running through her bloodstream kicks out the jams for album four at Muscle Shoals and clearly enjoys the ride . . . a sound steeped in all night juke joints, you don't have to be Janis or Bonnie to let the world know you gots da blooz. Midwest Record, March 2016
. . . great emotion . . . soulful & blues set of southern music . . . Maybe after her summer in Europe, Bond will tour more the US so we can all enjoy her work. Mark Nelso, Crossroads Blues Society
. . . eleven delicious tracks of downhome, gritty Southern soul and blues . . . a tight set of new originals and well-chosen cover tunes, Debbie Bond and Enjoy The Ride prove that there's still musical magic in The Shoals. Graham Clarke, Blues Bytes
Debbie Bond continues to serve up some mighty fine Southern soul and blues, and all us fans are much the richer for it. Sheryl and Don Crow, The Nashville Blues Society.
. . . a timeless slice of Muscle Shoals soul blues from the crossroads of all things true Southern American music . . . Bond's voice, playing and writing have developed like a fine wine . . . the best take of "I Am The Blues" that may have ever been recorded proves to be a cohesive career defining work with a sound that pulls Alabama blues and Alabama soul into one forged weld molten edge of sound. Debbie pulls together the diversity of sound that has put Alabama on the map and shapes it into a well defined crown of jewels which justifies her calling as the ambassador of Alabama blues to the world. Enjoy the Ride sets a new bar. . . her finest work yet and delivers pure bliss. Brad Hardisty, Nashville Bridge.
CD Review: That Thing Called Love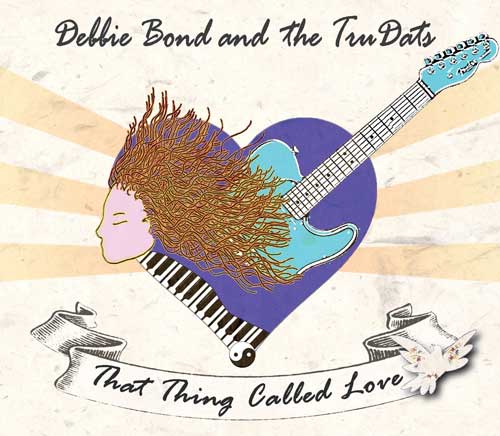 Sometimes you get something great when it is least expected, which is the case with Debbie Bond and the TruDats' new CD, That Thing Called Love. This material was originally recorded in a big army surplus tent out in the hills of West Nashville as a live performance for the WRFN Radio Free Nashville's Mando Blues Show. When the smoke cleared, it turned out that the music and chemistry were so good that OmegaLab Studio's Rob McClain was able to mix and master the recordings into something very special.
Debbie Bond has over 30 years of Alabama blues experience and has toured the US and Europe with legendary bluesmen, including Johnny Shines, Little Jimmy Reed, Willie King, Eddie Kirkland, and Jerry "Boogie" McCain. Since 1995 she has mostly run her own crew, and released her debut album in 1998. Debbie gives back to the blues community and is the founder of the non-profit Alabama Blues Project, which is dedicated to the promotion and preservation of blues from the Heart of Dixie.
That Thing Called Love is Debbie Bond's third release, and it was accomplished with the bare minimum of personnel. Debbie provided the vocals, rhythm guitar, and lead guitar, and she is joined by her husband Rick Asherson on keyboards, keyboard bass, harmonica and backing vocals. He also acted as producer for this project. Dave Crenshaw was the drummer for the majority of this record and guest saxophonist Tom Pallardy came on board to lend a helping hand. There are nine tracks, seven of which were written by Bond and Asherson, and three of them were previously unreleased.
The first track is a cover of Solomon Burke's "You're the Kind of Trouble;" you may have seen this Holmes Brothers song being performed on the Nashville musical drama tv series last year. There is almost too much to process while listening to this soulful pop-oriented blues tune: Debbie has a beautiful voice and can play a fine guitar, Asherson and Crenshaw are tight as brothers, and this is one of the best-mixed live albums you will ever find. It is hard to compare Bond's voice to any contemporary artist, but in a nutshell her sound is equal parts throaty and melodic and she is spot-on with her intonation and phrasing -- there is nothing like decades of real-world experience to hone one's craft.
The other cover is also from the Holmes Brothers and "Feed My Soul" is a soulful ballad that highlights Asherson's bass keys and electric piano. Pallardy's sax makes the mood on this track, and it is impressive how reserved and disciplined he is, playing only what is needed. Too often sax players get a little out of control in live situations and kill the vibe, but that does not happen here.
The logical assumption would be that "Steady Rolling Man" is an ode to Debbie's husband, who she met when they were both touring with the late Willie King. It certainly is a good description of his playing style and Rick Asherson delivers the goods with his speakeasy piano in this New Orleans flavored song. Crenshaw lays back, grabs his brushes and mutes his drums to complete the picture. This is an ambitious tune as it is is a departure from the rest of the show and it is a vocally difficult song, but Debbie and the TruDats pull it off and it shines as the standout track of That Thing Called Love.
"Tarragona Blues" appears twice on the album, and the second version is sequenced as the final track in an extended re-mix that features Ray Robinson on drums (Crenshaw moved over to Latin percussion), and Jonathan Blakney on background vocals and additional percussion. The extra personnel is needed as this is a bossa nova tour de force. It ends up being a shout-out to Debbie's Spanish fans who appreciate her jazzy blues stylings, and she treats them (and us) with hearty vocals that are specific to their land and she throws in a smooth Telecaster break for good measure.
Debbie Bond and the TruDat's That Thing Called Love is a slickly-produced CD, but since it was recorded live it has a raw energy that is missing from most studio projects. It is a great example of Alabama blues and soul from the premier ambassador of the genre, and you should definitely make the time to give it a listen! Rex Bartholomew, Blues Blast Magazine, May 2014



Originally intended as a live recording for broadcast, Bond and the gang found the session rolling with such a mighty groove that it had to be captured for posterity. Right from the start of this date, you can feel what Bond and company were feeling at that moment. A white blues belter from the deep south, Bond has her own special sauce all over this proceeding making it different that what you'd expect from the usual guitar slinging blues momma. Able to caress and seduce as well as steamroller over you, this is the kind of set that raises the career bar and makes everyone take note. Hot stuff throughout. Chris Spector, Midwest Record, January 2014



Singer and guitarist Debbie Bond has worked with many of Alabama's finest, including Jerry McCain, Johnny Shines, and Willie King, the latter a major influence on both her and her husband, Rick Asherson; both were members of Willie's band and toured and recorded with him. This set, Debbie's third, was recorded just outside Nashville and is a fine, generally low-key set of modern blues; Debbie's usual band, including her multi-instrumentalist hubby and augmented by the sax playing of Tom Pallardy is in good form - no major rock influences, but a little jazz flavour courtesy of the original track 'Steady Rolling Man', a hint of Santana on 'Tarragona Blues' (two versions of this) and an occasional country tinge in the vocals. A fine and varied CD that deserves to be heard. Norman Darwen, Blues and Rhythm , February 2014
I just received the newest release (January 21, 2014), That Thing Called Love, by Debbie Bond and the TruDats. Opening with You're The Kind Of Trouble, Bond immediately captures your attention with a tight blues based pop track with a nice groove. Steady Rolling Man has an early blues/New Orleans sound with nice piano work by Rick Asherson and nice sax work from tom Pallardy. Feed My Soul is a solid ballad with a catchy melody and radio hook. I Like It Like That has a boogie feel and Bonds vocals are spot on. Asherson exercises a bit of John Mayall like harp work on this track. Very nice! Still Missing You falls square into the ballad arena. Bond plays a sweet guitar solo on this track leading to a nice sax solo from Pallardy. Tarragona Blues has a Latin rhythm provided by Dave Crenshaw, Jonathan Blakney and Ray Robinson on drums. Again Bond steps out with a clever guitar solo and Asherson lays down some nice key work. Falling has a real nice intro by Asherson leading to a soulful ballad. Possibly one of the most interesting ballads on the release, I feel it is "the one" for the radio. Cleanly articulated guitar work on this track adds nice accent to a bright tune. Title track, That Thing Called Love is a bluesy track with sophisticated jazz influences. Again nice sax work from Pallardy as well as nice solos from Bond and Asherson make this a real nice precloser. An extended mix of Tarragona Blues completes the release with particularly nice percussion work and instrumentals. All in all a very sophisticated mix of tunes with cool vocal and instrumental attributes. Bman's Blues Report, January 2014




. . . The album features nine tracks (the finale is a repeat in the form of an "extended mix), all but two tracks written by Debbie and her husband, Rick Asherson. Adam and Shannon Wright and Paul Kennerley wrote "You're The Kind Of Trouble" and "Feed My Soul" is a song by Wendell Holmes. The album is taken from a live radio broadcast, which tasted so good to Debbie and her musicians that it inspired Debbie to make it into a CD.
Songs on an album: Right from the opening "You're The Kind Of Trouble," Debbie grabs your attention with her ​​singing in this tight bluesy pop song, with very nice grooves. 2 "Steady Rolling Man" is the most adventurous song, with a blues / New Orleans sound, a stylish 'speakeasy' piano part by Rick Asherson and swinging sax fills from guest saxophonist Tom Pallardy. 3 "Feed My Soul" is the first soul ballad on the album, with a very attractive melody, which would do well on radio. 4 "I Like It Like That" is a track with a funky rhythm and Debbie's singing is again great. Asherson plays a harmonica reminiscent of compatriot John Mayall, which he manages well and makes this track even sharper. Very good! (My favorite song). 5 "Still Missing You" is a track with Debbie in the spotlight. She plays a very warm Telecaster guitar sound, which is complemented by the wonderful sax from Tom Pallardy. What a class saxophonist! More Latino grooves on 6 "Tarragona Blues", a track with a bossa nova soul beat, carried by Dave Crenshaw (Latin percussion), Jonathan Blakney (backing vocals / percussion side) and (there's a switch!) drummer Ray Robinson. Here, too, Debbie's guitar is again very beautiful and Asherson's piano riffs are something for you to relish. The other (better) soul ballad 7 "Falling" starts with Asherson's bass intro. Debbie's soulful style guitar and vocals bring out all the correct accents. Then there's the title track 8 "That Thing Called Love", a bluesy track with a lot of jazz, soul and funk influences and Pallardy's sax on the first row. To finish, we get a repeat: the 'extended' version of 9 "Tarragona Blues" . The percussion work is well done and the mix of vocals and instruments is very cool.
Debbie Bond brings white blues from the deep South, Alabama, embellished with funky rootsy, swampy grooves. Describe it as "Curtis Mayfield meets Memphis Stax Gospel". "That Thing Called Love" is an album with a great styling and delicious grooves, that will quickly put you in the right mood. Eric Schuurmans, Rootstime.be, January 2014
Debbie Bond's third release is another from Blues Root production. In April 2013, Debbie drove from Alabama Highway 65 towards Tennessee. A live recording was captured at OmegaLab Studios in the hills just outside of Nashville of WRFN Radio Free Nashville's Mando Blues Show. . . . This showcase features nine songs which highlights three new songs in the setlist. The album opens with the tight blues song, "You're The Kind of Trouble" . The groove is a tribute to the Holmes Brothers and quickly builds a bridge to the New Orleans styled "Steady Rolling Man". The characteristic piano work of Rick Asherson immediately finds cool interactions with the tight sax from Tom Pallardy. "Feed My Soul" is an original Wendell Holmes and a calorie bomb of a ballad . The catchy melody is a cross between Debbie's rough voice , the delicious piano tunes and sax sound. The stage really explodes with what Asherson conjures up on his harp in the sweltering "I Like It Like That." Bond's sweet guitar solos on her Telecaster carries us quickly away in the blues ballad "Still Missing You." The Latino and bossa nova soul groove of " Tarragona Blues' leads us too quickly to the slow but wonderful "Falling". The title track incorporates many styles - it's blues, soul and gospel but ultimately just Debbie Bond's musical sound. Final track is a second version of "Tarragona Blues" ( extended mix ) . It is especially great percussion arrangement including Jonathan Blakney on side percussion and creates a very danceable finale. Philip Verhaege, Keys and Chords, January 2014
In April, 2013,  Debbie Bond and the TruDats were finishing up a road trip just up I-65 from their home base of Alabama, after appearing here for the Nashville Blues And Jazz Awards.  Their last stop was an appearance on Radio Free Nashville's Mando Blues Show.  And, what began as a live taping on WRFN high in the hills of West Nashville, just a hoot 'n' a holler from the Loveless Cafe, turned into their latest album.
Debbie broke into the soulful groove of "You're The Kind Of Trouble I could get into," and engineer Rob McClain just let the tapes (and the good times) keep rollin.'  "That Thing Called Love" is the result–unrehearsed, done "in the moment" in one take with the band hittin' an unbelievable groove.
Debbie's got that beautiful, lilting voice that is perfect for the chosen material. She's playfully cajoling while extolling the virtues of her "Steady Rolling Man," with Crescent City-fied piano from Debbie's partner in love, Rick Asherson, and sax from Tom Pallardy, and again in the call-and-response of "I Like It Like That."  Then, she turns poignantly pensive in the story of  a love she just can't quite get over, "Still Missing You," as she lays down a sweet guitar solo at the bridge over Tom's subtle sax.
Debbie also has a deep affinity for Spanish rhythms, in particular the Tarragona region.  As such, the bossa nova beat of "Tarragona Blues," with its references to Spain and Alabama, and "the long way to go," between the two regions is presented in two versions.  The latter features an extended percussive intro, and, in listening to both versions, one finds the distance between the regions may be excessive in miles, but relatively short, musically speaking.
The title cut was our favorite.  The rest of the band lays down a rolling-thunder groove and is the perfect foil for Deb's Telecaster fills and testifyin' vocals that spin the tale of the power of "That Thing Called Love."
This recording was the culmination of a magical weekend for Debbie Bond and the TruDats.  Rare is the occasion when a band hits its stride the way this group came together for this album.  "That Thing Called Love" represents not only the first official release from the OmegaLab Studios, but, with the excellence of the musicians involved, it is Debbie's strongest set to date!!  Sheryl and Don Crow, donandsherylsbluesblog, December 2013

A multiple threat, Debbie Bond is a superb guitarist, a great songwriter and one memorable vocalist.  She has performed with some of the best, Johnny Shines, Jerry McCain, James Peterson, Eddie Kirkland, Sam Lay, Little Jimmy Reed and Willie King with whom she played second guitar from 2003 until his death in 2009.  She can also be heard on his final two albums. 
This is a straight-ahead blues album, recorded live in a tent.  The recording is exceptional, rare indeed for a live recording but for an album recorded in a tent, where often there are elements that cannot be controlled.  In all honesty I would say it makes this recording all the more spectacular.  What you hear is what you get and it doesn't get much better than this.  The arrangements are great, the band is tight and everything ran like a well-oiled machine.  Bond is not all flash but when she opens her mouth, magic happens.  With all but two of the tunes written by Bond, the album that resulted from the show that was unplanned and unrehearsed is a good showcase for her songwriting abilities. 
There is something special about seeing a band perform live and hearing a good live recording comes in a close second.  That Thing Called Love is definitely a good live recording.  There is something refreshing about a band that does not have to rely on high-tech special effects and pyrotechnics to get their point across.  Comparisons have been made to Bonnie Raitt and Maria Muldaur but that, in my eye, tends to cheapen her performance and hard work.  Debbie Bond is her own woman, with her own unique style . . . a style that she developed while performing with some of the greatest artists in blues history.  Debbie Bond is, like those she gets compared to, a woman who has paid her dues.  She has not tried to imitate anyone but has poured herself heart and soul into her music . . . music well worth the price.  Given the opportunity, get out and see her perform, you will not regret it.
Bill Wilson, Reflections In Blue, January 2013

Alabama-based singer/guitarist Bond, who's worked with such luminaries as Willie King, Johnny Shines, Jerry McCain, and Little Jimmy Reed, originally recorded this set for Radio Free Nashville WRFN's Mando Blues Show in early 2013.  However, after hearing a playback of the performance, she decided to release it as a CD.  It was a wise decision.  This set gives you a perfect picture of Bond's enthusiastic southern-styled brand of blues, rock and soul.  It sounds like the whole thing was a barrel of fun, which is what most blues fans are looking for when they pick up a CD.  This one won't disappoint them at all.
Blues Bytes, Friday Blues Fix, January 2014
Debbie Bond's third release, Blues Root Production's That Thing Called Love, takes a bold step not only stylistically, but, recognizes the hot band, The TruDats led by multi- instrumentalist bandleader and partner in crime and love, Rick Asherson as a full reckoning burning house of sound.
Recorded originally as a live recording at OmegaLab Studios in the hills outside of Nashville for Radio Free Nashville's Mando Blues Show after capping off an exhaustive Nashville weekend where Debbie Bond & The TruDats were featured at The Nashville Blues and Jazz Awards Show, the recording turned out to be magic with Debbie Bond & The TruDats in top form with a pristine live recording vibe that featured a few never recorded songs that were on par with Austin City Limits or England's BBC In Studio productions.
Under the guiding hand of Rick Asherson with engineering, mix and mastering by Rob McClain this first official release from the Mando Blues Show kicks off with a tribute to The Holmes Brothers on Tracks one, "You're The Kind Of Trouble" and three "Feed My Soul" which helps to define that there really are no boundaries within the definition of where the TruDats and the blues can go with it rootsy funky, swampy, Curtis Mayfield meets Stax Gospel vibe and compelling vocals by Debbie Bond.
Dave Crenshaw has enough space in between each drum hit to keep the groove swinging that wants to make you move, but Dave really shows his full spectrum on "Steady Rolling Man." This is one of Debbie's most adventurous tracks yet. Hard to believe that there are only four people playing when this could be a Preservation Hall Jazz track out of New Orleans' French quarter with enough air to feel humidity drenched Creole food rolling out to the tables.
Debbie Bond transforms into a Ragtime chanteuse, with interplay between Rick's speakeasy piano, Dave Crenshaw's straight up 1920's style drums and Tom Pallardy's ability to play sax like a trombonist or Pete Fountain without hesitation makes this unbelievable.
"I like It Like That" most closely resembles Debbie and Rick's days with Willie King, 'The Sweet Potato Man' who just passed away in 2008 with its call and response lines between Debbie and Rick sounding very much 'Sweet Potato Man.' Rick's piano updates the Alabama soul groove with a sixties Aretha Franklin in Brooklyn strut then at 2:37 right after Debbie says, "maybe we can get the audience to clap their hands" he starts jamming bass and Musselwhite harp at the same time. There ought to be an award for this because when you see this live it is going to blow your mind.
The Alabama Sunday afternoon "Still Missing You" showcases Debbie's Alabama blues style vocals that bring to mind the Muscle Shoals era and the heart of Alabama soul, Eddie Hinton. Debbie's mellow Telecaster lines are some of the best on the album and kind of spread around like butter drizzling over a stack of hotcakes.
"Tarragona Blues" comes in two versions, one that goes right into a bossa nova blues soul groove with reference to both Spain and Alabama with "a long way to go" and the other with a big afro centric introduction that takes a different route, paying tribute to the fans in Spain who have welcomed Debbie with open arms and a place that she cannot wait to return to. The TruDats changed up on this track with Ray Robinson on drums, Jonathan Blakney on background vocals and side percussion and Dave Crenshaw taking over on Latin percussion.
Rick pulls off a serious Charlie Mingus bass intro on "Falling" against Debbie's difficult melody drop-in to set up "Move a little closer baby, I have a message for you" while, "That Thing Called Love" finds Rick doing the impossible by being Mingus yet again with one hand and Isaac Hayes with the other as Tom Pallardy slides in on sax in another corner of the room. Debbie enters in reverb drenched Tele that sets up a smoky groove and a preacher's daughter throwing down thunder and lightning vocals.
"That Thing Called Love" really has no boundaries within Southern Music whether it be Blues, Soul, Funk, Ragtime or Swamp Pop; Debbie had a good reason to change to Debbie Bond & The TruDats because of the serious musicianship that has been gathered for this recording. Every corner of the blues and every musician has a chance to shine on this exquisite live recording that everybody will want to take home to listen after a great show.Brad Hardisty, The Nashville Bridge, January 2014
CD Review: Hearts Are Wild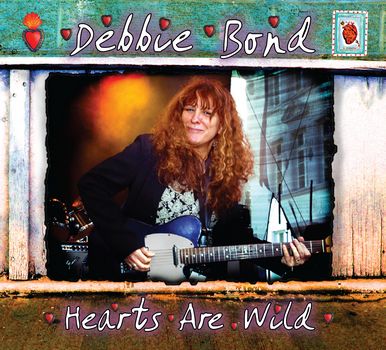 California-born Debbie Bond may have had a worldly upbringing, living in countries like Holland, Germany and West Africa, but she's an Alabama girl through and through. Bond has not only worked with some of the state's best bluesmen . . . [including] Johnny Shines and Willie King, but she also began the Alabama Blues Project in 1995 in her adopted home state. The project's goal is the ultimate preservation of the blues as an art form through an awareness of education, live performance archival matters, and cultural understanding. Hearts Are Wild, though only her second solo disc (her first was in 1998s What Goes Around Comes Around), sounds like the work of a seasoned vet.
Bond's band, led by keyboardist and husband Rick Asherson (who co-produced the disc with Bond), is nimble and treads lightly-each instrument is tidily separated in a made-for-headphones mix. As a guitarist, Bond doesn't spend her time trying to get her licks noticed, instead relying on her songwriting and healthy groove, a la Memphis bump "Dead Zone Blues." Her playing is best exemplified on tracks like the title cut, her brittle, tremolo-doused leads accenting the velvety slow-blues of Asheron's last call piano-bar tinkling. "Drama Mama" is an ode to a woman who "has more tricks than I can mention, keeping her the center of attention," with trumpet from Brice Miller muted to produce a cotton Club-era jazzy whine.
Bond's spot-on cover of Aretha Franklin's 1967 hit "Baby I Love You" quakes with funky soul, her band sharpening up the original with stimulating drum lashes and economically siphoned melodic sax. Her voice segueing to the candy-coated breathy vibrato with "let me give it to you baby." Similarly engaging is the roadhouse-lite, "I Like It Like That," a tongue-in-cheek, libido-stoking cut ("my baby's young and able to feed my appetite, cooks it up in the morning, even late at night.") The disc ends appropriately, with the slightly churched-up soul "Since I Found Love," Bond proclaiming, "I thank heaven above, since I found love."
A mouthpiece for sultry, Southern charm and whimsical musical conversation, Debbie Bond gets her heart tangled up in an intimate mess of backwoods Alabama soul.
Mark Uricheck, Living Blues Magazine #217, February 2012



Happy New Year from the Southland! Want to make it happier? Pick up Debbie Bond's new CD Hearts Are Wild for a rollicking blues entry into 2012. Debbie is from Alabama, by way of California, Holland, Germany, and even West Africa. She has been performing since she was 13, and hits a homerun with her new CD. Twelve songs and ten originals, with soul and love in each one. Debbie belts out some great blues with her sensuous voice, and long flaming red hair, she got the stuff, and looks the part. The band is cooking with horns, piano, harp, and a great sound. It's a roller coaster ride from shuffles to ballads, to slow love songs, to pure blues. She's got that Alabama drawl and rasp that makes us all love those Southern gals anyhow. She even sings "You're the kind of trouble I could get into." "Hearts Are Wild," the cut the CD is named after, is just a great piece of slow blues. "Still Missing You" is another heart grabber. "I Like It Like That" is another favorite, and the last cut on the CD "Since I Found Love," is just the right song to leave you wanting some more. Overall the mix of horns, piano, tasty guitar, tempting vocals, and a sincerity to play good music, leaves this listener pretty danged satisfied. There's not a cut on here that you will skip over. Yea, it's good stuff my friends. Check into it and see what you think.Blue Barry, Smoky Mountain Blues Society, January 2012



Her immersion in the blues has deeply flavored her guitar playing, soulful voice and original song writing, yet her sound is contemporary and original, incorporating soul, blues, rock, jazz and even country influences. This unique musical synthesis can be heard on her latest album, 2011's Hearts Are Wild. Weekly Blues News, Blues Festival Guide, January 13, 2012



Red-haired singer/songwriter Debbie Bond has quite a pedigree, having worked with a bunch of Alabama-based blues legends in her day-Jerry "Boogie" McCain, Willie King, Wild Child Butler, Johnny Shines (for more than a decade) and Eddie Kirkland, among others. This album, only her second, represents a major turning point in her solo career. She not only demonstrates her song-writing acumen-all pco-pens with keyboardist Rick Asherson, except the witty "Your're the kind of Trouble" and a mellow horn studded "Baby I love You." She also displays her formidable guitar chops on titles like the jazz-tinged "Drama Mama," a smoldering ballad called "Falling" and sensually cooking "I like it like that," with Asherson adding some spicy harmonica. Other picks include the panoramic blues-rocker "Since I found Love" and Facebook and Myspace poplulated plea "My Time." The founder of the Alabama Blues Project gives it her all and is at the top of her game. Recommended.
Gary Von Tersch, reviewer, Big City Rhythm and Blues, December 2011/January 2012



Guitarist Debbie Bond has most recently been connected with her work with the Alabama Blues Project, but she's traveled the world and played festivals as diverse as "The Biscuit" in Helena to the Cognac in France. On her latest release, Hearts Are Wild, she collaborates with keyboard whiz Rick Asherson on ten deeply-soulful originals and two covers that tell tales of life and love and all the zigs and zags along the way.
Also of note is the unbridled and unabashed passion of this entire project. With Debbie's vocals and Rick's deft piano and organ work, along with a full horn section and spiffed-up, jazzy arrangements, there's a sweet, New-Orleans-at-Mardi-Gras-time vibe that permeates the set. Things get started with Debbie's tale of someone caught in the age-old trap of "right place, wrong time," aptly-titled "Dead Zone Blues." A good girl's attraction to bad boys is the theme of "You're The Kind Of Trouble," while "I Like It Like That" is Debbie's ode to Asherson and his abillty to "cook it up in the morning and again at night!!" This one features some sweet harp from Rick as well.
There were several noteworthy cuts, too. You can feel the angst in Debbie's vocal and guitar in the title track, as she wonders aloud, "should I stay or should I go." Muted trumpet and a jazzy arrangement over Debbie's Rickie Lee Jones-ish vocals highlight the tale of a woman who's the "starring role in her own picture show," "Drama Mama." A rockin' tale of society's increasing dependency on social media is the swingin' "My Time." And, she takes Aretha's "Baby I Love You" and turns it into a sweet, N' Awlins-styled vamp.
Debbie Bond won a prestigious Keeping The Blues Alive Award in 2004 for her work with Alabama Blues Project and the Blues In The Schools program. And, with a strong set such as Hearts Are Wild, she's poised to receive more accolades in the future! Sheryl and Don Crow, Nashville Blues Society, December 31, 2011
Debbie's exposure to roots music across the world began at the age of eight when her family left their California home to live in England; she started playing guitar at the age of twelve, the family continued their travels across the world living in; Scotland, Germany and Holland; At the age of thirteen she made her performing debut on Sierra Leone television. Debbie joined her first band in Brighton, England.
In nineteen seventy-nine she returned to the U.S. and settled in Alabama, where she shared her band and the stage with the great Johnny Shines until his untimely death in nineteen ninety-two. After this she continued to work with such artists as; Jerry 'boogie' McCain, James Petersen, Eddie Kirkland and Willie King to name but a few. After the release of her first album "What Goes Around Comes Around," in two thousand and two she returned to college to enhance her blues educational work receiving a M.A. in Blues Studies in the same year. Debbie performed and taught the blues in schools with Eddie Kirkland until his death in two thousand and eleven.
Now, with this album and her husband Rick Asherson who provides keyboards and harmonica we have an album that has a funky, rural open spaced feel with an almost medicine-show piano driving force that utilises a jaunty burnished, jazz inflected faultless horn section.
Debbie's vulnerable, sultry gruff vocals are well suited to piano led slow burners such as "Still Missing You" and "Falling." Throughout all the perfectly pitched numbers there is an uplifting community spirit ethos. Especially, so with "My Time," and "Ricks' Boogie," "I Like it Like That" and the foot tapping, "Since, I found Love."
Highly commendable! Brian Harman. Blues in the South (UK), February 2012



Bond remains a steadfast figure in the Alabama blues scene, continuing to tour and perform. Her dedication to the blues tradition is clear on Hearts Are Wild, which showcases her classic vocals, piano-driven accompaniment and a smattering of horns and harmonica . . . reminiscent of music from a different time, truly capturing the spirit of classic blues. This makes sense, given Bond's background, and it's done well here . . . Each track contains a strong piano part led by Bond's vocals. Hearts Are Wild is a solid album, especially for fans of true blues music. Can't Miss Tracks: Dead Zone Blues, Nothing But the Blues, Falling. The Big Hit: Dead Zone Blues. Sarah Richmond, reviewer, Blues Rock Review, November 23, 2011
Born in California, Debbie Bond delivers an album filled with variety, and multiple moods. She is a singer able to artfully change her voice, who plays with different styles such as very Rhythm and Blues' numbers in the opening song "Dead Zone Blue", or jazzy numbers like "My Time" with the subtle horn playing. She also knows how to make her guitar sing without superfluously showing off. You have to know that the lady played with the late Willie King.
Not one minute of boredom while listening to the 12 titles of the album. "Still Missing You " is a very "Americana" version. The superb lyrics are written with instrumentalist Rick Asherson who plays so many instruments.
The musicians are just as good, and they accompany Mrs Bond with talent and verve. An incredibly efficient and together band. Truly a superb album that I recommend you buy asap. "Rick's Boogie" is another example of finesse, a short irresistible guitar solo and that spellbinding nuanced voice or the irresistible "I like it like that" - harmonica, piano, a perfect shuffle...
Every title carries its own feeling which undeniably makes for the strength of this opus. Sincerity is the perfect word to summarize this work. Debbie Bond also has a project which is dear to her heart: the Alabama Blues Project which aims to make the blues known in schools or to make the blues and Alabama musicians better known to a larger population; for more info go to www.debbiebond.com.
Hearts Are Wild is an album to be listened to after a hard day's work -calm and serene... IT'S GOOD... and you are seduced the first time you listen. It's not about liking the blues it's simply about liking music. That's all . . . Boogie Radio (FR), January 2012



Debbie Bond is a California native but settled in Alabama in 1979, where she shared her band with legendary bluesman Johnny Shines from 1981 until his death in 1992. She's a fine guitarist and has taken to writing her own songs to match her vocals, which range from smooth and sensual to soulful and gritty . . . laced with tough horn and piano . . . a torchy and soulful outing . . . Bond is a sharp talent who makes fine music with some sultry blues roots. Jim White, reviewer Pittsburgh Post-Gazette, 12 December 2011



Debbie Bond is a fixture in the contemporary Alabama blues scene, and this new CD only cements her stellar reputation while pushing the genre itself to soaring heights. The talent on guitar, keyboards, and other instruments is amazing, and Debbie's voice manages to be sultry, sexy and wise all at once--it's as if Adele grew up, and grew up steeped in a fine Southern tradition of musicianship. This CD will make you laugh, cry, shout along and stomp your feet--and most of all, it will make you move. For a taste of new blues with as much soul as it has heart, get this CD right away--your collection is bereft without it.
Tangerine at Amazon.com, November 7, 2011



Certainly no newcomer to the Blues scene, it's surprising that Hearts Are Wild is Debbie's second solo release. After years of working with legends like Willie King and Johnny Shines, and devoting time to the Alabama Blues Project, Debbie has released the long awaited follow up to What Goes Around Comes Around. Debbie's voice is unique, and well suited to all the styles of Blues and Roots music that she explores on this CD. Moving effortlessly from strut to shuffle and from boogie to ballad she offers a little something for everybody. With twelve tracks, most of them originals, I was really looking forward to listening to this one.

"Dead Zone Blues" kicks off the CD and is a great song. Full of attitude and swagger, it's just what you're looking for in a CD like this. Another great track is "My Time." What I love about this, other than the rocker vibe, are the lyrics. As a child of the 70's I can fully relate to the playful lyrics about how things like Facebook have changed our lives. "Falling" is a beautiful ballad full of emotion, and you can feel the love she has for her partner Rick Asherson, who is also a member of the band on keys, harps, and background vocals. Aretha Franklin's "Baby I Love You" is the standout of the two covers. Aretha is never easy to cover, but Debbie does it extremely well.

There are solos throughout that are wonderful. From Brad Guin's tenor sax in "Falling" to the guitar solos throughout, and the trumpet of Brice Miller, Hearts Are Wild is an inviting listen that I think you'll enjoy. Melissa Martinez, reviewer, Rock Over America, December 14, 2011



With Hearts Are Wild, Debbie Bond has turned a professional corner to concentrate on her own music. Having worked with dozens of top musicians over the years - from Little Jimmy Reed and Johnny Shines to Jerry Boogie McCain and many others - Debbie's established herself as a top-notch blues vocalist and guitarist while also heading the Alabama Blues Project, an entity that she co-founded to provide music education to the children of Alabama through workshops, blues camps, and in-school residencies. As I wrote about the Los Angeles native in the introduction to my book, Alabama Musicians: Musical Heritage from the Heart of Dixie, "[If] any nonnative artist deserves inclusion [in this book], it's Debbie for her relentless promotion of Alabama music and musicians through the Alabama Blues Project's educational programs, concerts, and CD releases.
Reviewers usually compare an artist to others who've come before, and I could do that as well, but it would be a disservice to the listener. In the CD's twelve songs, Debbie demonstrates a vast array of musical interests and influences. Debbie has developed a personal sound that immediately grabs the listener and doesn't let go until the last note fades to silence. Hearts Are Wild is a wonderful CD that features a variety of styles and themes, from the lyrical exploration of addiction in "Nothing but the Blues," to the funky, double entendre song about cooking, "I Like It Like That," to the soulful love ballad, "Falling," to my favorite, the rocking "My Time," a satirically funny indictment of our narcissistic love affair with social networks.
Backed on Hearts Are Wild by Rick Asherson, James "Mr. B." Brown, Brad Guin, Chad Fisher, Dave Crenshaw, Brice Miller, and Rob Alley, Debbie delivers ten original songs (cowritten with Asherson) and two covers that fully establish her as an original artist whose talent has become the standard to which comparisons are made. C.S. Fuqua, author of Alabama Musicians: Musical Heritage from the Heart of Dixie, November 8, 2011



Debbie Bond is co-founder of the Alabama Blues Project, which promotes and helps preserve the state's blues heritage. The educational non-profit presents programs for many Alabama schools promoting great Alabama blues artists. Bond's primary focus, however, is as a performer. She worked with Johnny Shines through the 80's and early 90's, and has also worked with Jerry "Boogie" McCain, James Peterson, Eddie Kirkland, Sam Lay, Little Jimmy Reed, and Willie King (appearing on his last two albums).
Hearts Are Wild (Blues Root), her second release as bandleader, focuses on the blues from the soul side. Bond co-wrote ten of the twelve tracks with keyboard/harmonica player Rick Asherson. The original compositions range from the pulsating opener, "Dead Zone Blues," "My Time," a humorous jab at modern technology and communication, the funky "Drama Mama," "Still Missing You," a melancholy slow blues, and the soulful ballad, "Falling." Cover tunes include Shannon and Adam Wright's R&B boogie, "You're The Kind of Trouble," and a faithful take on Aretha Franklin's "Baby, I Love You."
Hearts Are Wild is a feel-good collection of soul/blues with a rhythm and feel that's sometimes reminiscent of New Orleans at times. Bond is a fine guitarist and a passionate singer who deserves more recognition. Hopefully, this release will be a good start for her. Blues Bytes Review, February 2012


Just as fine wines are bettered with age, the same can be said of Debbie Bond's Hearts Are Wild. Hearts Are Wild shows her songwriting has reached full natural growth…She penned 10 of the 12 tracks...That music is supplied by Debbie (vocals, rhythm and lead guitar), her husband, Rick Asherson (keyboards, harmonica, and background vocals), Mr. B Brown (bass, rhythm and lead guitars, back ground vocals) Dave Crenshaw (drums and percussion), Brad Guin (sax) , and Chad Fisher (trombone) Rob Alley (trumpet) and Brice Miller (trumpet). Her last album, What Goes Around Comes Around, was released in 1998. Debbie has certainly paid her blues dues. Jerry Henry, reviewer, Planet Weekly, Music Matters, Tuscaloosa, Alabama February 21, 2011



Debbie Bond and Rick Asherson are certainly militants for a just cause but also humble and warm artist whose passion and experience have created an original music coming from the roots of the blues which they play with conviction, authenticity and a lot of talent. Their work and experience alongside Willie King taught them that the blues was also about sharing, emotions, a heart and soul. That is what they gave us when they came to the blues café live radio show to offer us their new album Hearts are Wild. (Translated from the original French) Cédric Vernet & Francis Rateau, Le Blues Café Live Radio www.bluesactu.com January 2011, France





CD Review: What Goes Around Comes Around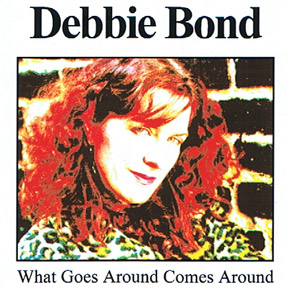 After many, many years of performing, Debbie Bond has finally graced us with her first CD. In today's blues world, the music is often dominated by electric guitarist who use vocals as a break between guitar solos. It's always a relief to hear a recording where the instruments accompany the vocals instead of the other way around. Another thing I like about this recording is that nine of the fourteen tracks are written by Debbie and Mike.
If you ever had any doubts about the quality of musicians in Alabama, this CD will certainly erase them. There's the horn section that sometimes provides a great Memphis feel. Topper Price lends his harmonica talents to several tunes including the acoustic slide blues "High Rider Blues". This tune is all Debbie Bond, and she knows how to sing a ballad . . . I encourage everyone to grab this CD. Leonard Watkins, reviewer Alabama Blues Society, May 1998


Live Show Reviews
A little bit of soul, some down home blues, clever lyrics, excellent musicians and angelic voice. That's what you experience with Debbie Bond. A true original in every sense of the word. Maxwell Russell, host of the Shoals Songwriters Showcase, May 2014
Straight from Spain's Tarragona Blues Festival to Oxford's Famous Monday Blues at the Jericho, Bond and her backing band were far from tired or jaded. Still high on the festival vibe, she produced a cracking set that showcased her growing talent as one of the leading– and few – female blues players on the US circuit.
Bond has clearly paid her blues dues. Formerly with the late Willie King for the last seven years of his life, she has also toured and played extensively with Johnnie Shines and Eddie Kirkland. Her band for the night included her partner and former Willie King band-member, Rick Asherson, on keyboards, harp and backing vocals, together with Richard Blanchard on sax and Sam Kelly on drums.
This was the only gig played by Bond in the UK, squeezed in on her return leg to her Tuscaloosa home in Alabama. With due reverence to her old pal, Willie King, she naturally included many of his socially-aware brand of blues numbers in the set while also promoting her latest CD release, That Thing Called Love, pretty well in its entirety.
'You're The Kind Of Trouble' led into the1930s-sounding, ragtime influenced, 'Steady Rolling Man', followed by 'Feed My Soul' and 'Still Missing You'. King's old standard, 'I Like It Like That', went down well with the crowd and the aptly titled, 'Tarragona Blues' also featured.
Kelly's skinwork was, as expected, solid and Blanchard provided some simply splendid sax solos together with some cleverly understated backing. Bond's vocals were strong, throaty and well-paced while Asherson's growling backing vocals meshed nicely and his keyboard work was inventive and engrossing. His harp solos were always grippingly good, demanding attention and admiration.
All in all, this was a polished, liquid and relaxed session from a player and band that seem to be constantly improving and developing. It's fitting that she includes some of her late mentor, Willie King's stuff in her sets but she is now clearly in a position to shake off the past and roll ahead on her own account. Iain Patience, Blues In Britain, November 2013
On the occasion of the presentation of his latest CD 'Hearts Are Wild' (2010) to 'Mi' Place of the Blues, Debbie Bond, with Rick Asherson, explained the objectives of the Alabama Blues Project and paid tribute to bluesman Willie King. For this first concert of the year 2011, the small hall of the 'Mi' Place of Blues sold out. Special visit by singer-guitarist Debbie Bond and Rick Asherson (keyboards, harmonica, vocals), both former companions of the late Willie King had fueled the curiosity of members of the Black Jack Blues Association.
Debbie and Rick seemed to experience a real pleasure to appear before this audience of connoisseurs. In a repertoire that showcases the latest CD produced by Debbie Bond 'Hearts Are Wild' (2010), the two artists played their blues with great sincerity, which did not fail to touch the audience. The times (including an excellent 'Red Bean Cooking') mingle with compositions like 'I Like It Like That' on which Debbie Bond invites his young nephew to play drums or 'Rick's Boogie' highlighting the play of Rick Asherson keyboards. The atmosphere is very relaxed, almost familial, with ultimately the public who dances to 'You're The Kind Of Trouble' while Rick alternate keyboards and harmonica to the delight of all.
During the intermission, Debbie Bond was presented the Alabama Blues Project and it runs since 1995 whose objectives are to promote the blues in Alabama in all its forms, whether through the recognition of history blues in this state that by raising awareness of this music at school-age children or helping old bluesmen in need. She then went a tribute to Willie King, who has also worked hard for this association and with whom she played, as Rick Asherson within Liberators. Debbie Bond also insisted on the importance of his meeting with Johnny Shines, his mentor, source of its active engagement in Alabama Blues Project, as well as the role of Eddie Kirkland in his musical career. Jacques Garcia, president of the Black Jack Blues Association in Ampuis, France
One of Tuscaloosa's most well-known names in blues, Debbie Bond has been doing her thing for more than three decades. With her soulful voice and songs, you'd think she grew up in the heart of the Deep South. In fact she grew up all over the world, in places like West Africa and England. Once she moved here in the late "70s, she was home. Her voice has been compared with legendary female powerhouses Janis Joplin and Bonnie Raitt, comparisons she is flattered by, yet she has a sound all her own. She has worked with top names in business, and toured the U.S. and overseas with Lil' Jimmy Reed, Little Whitt and Big Bo, Eddie Kirkland and Sam Lay.
Tuscaloosa News Readers Choice Best of T-town: Musician/Band, December 2011
Doing great work in the Deep South is the talented Debbie Bond… She has been busy playing the blues in the back woods of the US south where her emotion-rich style is described as a cross between Bonnie Raitt and Janice Joplin. On Monday she brings her mix of treasured covers and searing originals to the Famous Monday Blues at the Bullingdon. Don't miss the chance to see this talented, and thrilling blueswoman doing what she does the best. Tim Hughes, reviewer, Oxford Mail, Oxford, England Oxfordmail.co.uk/theguide, January 2011
The main stage then presented a great set by Alabama's Willie King featuring " Ride Sally Ride," "Sweet Potato Man" and "Spoonful," all tracks from his CD One Love. Guitarist Debbie Bond played superbly throughout as did her English husband Rick Asherson on keys. A great tight band that got the earliest dancers on their feet . . . bluesinthenorthwest.com

Debbie's passion for the blues resonates. Her life, experiences, lessons taught and learned, weaving their way through her music. Jo In the Afternoon, BBC Radio Oxford, England, http://www.bbc.co.uk/news/england/oxford/, January 26, 2011


I feel enthused by what I see her do on stage. I would look forward to Debbie being my guitar player any day of the week. Her singing and her guitar playing on a scale of one to ten . . . lets try 15! Her band I wouldn't be scared to take anywhere! Blues legend Sam Lay, Chicago IL
Debbie Bond, Rick Asherson, and band always put on a well done and exciting show and Thursday was no exception . . . Jerome Adams, reviewer, Planet Weekly, Tuscaloosa AL, September 2009
Debbie Bond has truly caught the essence of Southern Blues…an international personality who got her feet wet in an Alabama swamp…a true Baptism into the blues! Jerry Henry, publisher, That Alabama Musician Magazine
If you like your blues with a little feminine sass, Janis Joplin sound-alike Debbie Bond and the Kokomo Blues Band fit the bill. Shawn Ryan, music reviewer, Birmingham News, Birmingham, Alabama 1998
With no PA available there was some concern that the audience wouldn't be able to hear. Debbie Bond and Mike McCraken encouraged the large audience to move a little closer before starting. Debbie's vocals were excellent and their songs warmly received. Acoustic tour review Target, Yorkshire, England 1995
She's an original, not a copyist. Debbie can do other people's material and make it her own. Her soaring powerful voice, which is very musical, makes her a blues singer in the tradition of the best blues women. Barry Neville, host of Saturday Night Blues, WUAL Public Radio, Tuscaloosa, Alabama, WQPR Muscle Shoals, 1995
Debbie Bond sings with taste and emotion and she has a feeling for the music, a voice which can cover the sweet to the sinful. Blueprint Magazine, UK 1991
In a world sadly short of good blues women, Debbie is a real find! Debbie is a star . . . I can't wait to see her again. David Freeman, host BBC Radio Oxford Blues, 95.2 FM, Oxford England 1991


I've worked with Debbie - she reminds me a lot of Bonnie Raitt – and I've told her she's star material, she just needs exposure. Johnny Shines 1986
Not only is she one of the nation's top blues talents, but it is sure to be a memorable show in the intimate confines of the 1048. Rick Harmon, Montgomery Advertiser, Montgomery, Alabama
One of the hottest blues acts in the county. Shoals Magazine, Muscle Shoals, Alabama
Mike McCracken and Debbie Bond were the catalysts that sparked the Komomo Blues band in 1981. . . they joined forces with Johnny Shines and revived his career. His collaboration with Kokomo provides for a powerful blues experience. Spotlight, Tuscaloosa, Alabama